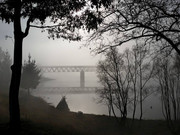 July 31st
The countdown begins - this morning is the last time Im acknowledging an alarm clock, 30 days of no regimented timetable a coming.
August 1 · Queenstown, Melbourne
Bloody hyphenated surnames, now one hundred dollars poorer to get a name change on a ticket. Alison and Rebecca save yourself grief and dollars by following tradition rather than current fashion... Might explain something else too. My wallet is easily a quarter the thickness of Helens
August 2 Melbourne
Long lazy breakfast at the Sofitel in Melbourne then walked the streets in central CBD. Images self explanatory I hope...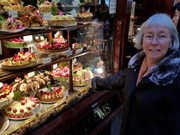 August 4 Queenscliff
This is our home for the next 25 days presently parked up, as planned, at Lara shopping complex. We will stock up on groceries etc have a bite to eat then head towards Geelong. The motorhome sleeps six, has an automated transmission and once on the way is easy enough to drive.
At Geelong. John discovered these little hotties on the beach, but which one to choose to stand by? Miss 1937 might have just been a bit too long in the tooth.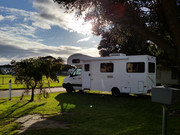 August 5 at 11:57am · Point Lonsdale, Australia ·
Presently sitting in the Mhome at Point Lonsdale Lookout watching the pilot boat go through the heads to bring two ships into Port Phillip Bay. The channel is very close this side of the harbour. Squally weather with moments of sunshine. Impressive sea with an outgoing tide flowing into a southerly swell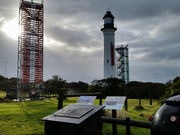 August 5 at 5:58pm · Apollo Bay
Thank you Jennie and Yvonne the scollop pie from the Apollo Bay Bakery was delicious even Helen agreed!
We have arrived at Kennett River holiday park. Another day of stopping here and there viewing the sights. We chose this park as reviews mentioned lots of wildlife in and around the site, including koalas...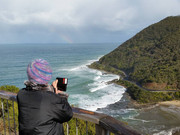 August 6 at 6:47pm · Port Campbell
We spent most of the afternoon looking at the various Lochs and bays surrounding The Twelve Apostles and walked a good few kms in the process. The weather is only marginally better than yesterday, lots of ponding visible and streams washing over the roadway. Laundry time now then out to dinner tonight I think here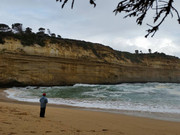 August 7 at 2:09pm · Warrnambool
That's the finish of the GOR and highly recommended. Still ahowery with occasional rainbows and sunshine. Now having a burger for lunch as recommended
August 7 at 6:00pm · Port Fairy
Today's wrap up for those if you back in NZ. Weather wise the rain has gone and the sun has come out with attendant lift in temperatures, 14c instead of 8-10c. I took a walk around Port Campbell this morning , then after checking out the iSite we headed west to the coastal lookouts. Lunch at Warrnambool, a truly massive burger, coffee elsewhere, then away to Port Fairy where we walked the circumference of Griffith Island, them parked up here. The Mhome has been fighting headwinds and steep climbs so only managed 14lt/100km, I'm hoping for better when we start heading east tomorrow though we have no destination planned, happy enough here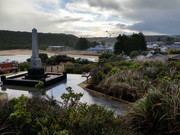 August 8 at 9:47am · Port Fairy
This morning we will dine at the camp supplied pancake breakfast but that's not until 9am so a bowl of museli first.
We have gone as far west as I had planned, now we head northeast, eventually making Cannbera by next Saturday with a few detours along the way.
We have been toasty warm in the MH, no complaints from Helen about the mattress. No condensation either other than on the windows. We do run the 2kw fan heater most of the time and notice the heat escape if we turn it off to run another appliance. (This action wasnt necessary, I later checked the plug size and MCB rating, both 16amp, which could run both appliances).
A mostly clear morning here with puddles from overnight drizzle.
August 8 at 4:26pm — at City of Ballarat.
We have arrived here, stopping to purchase some slippers to keep the floor of the MH dry from the often wet ground outside.
Nothing but broadacre farms for the last 200k although we did stop and hour or two back at a small town café small town Derrinallum, small town ideas too, as you could only consume food from the lefthand food cabinet within the premesis but not the right, which contained delicious looking wraps and rolls.
I should mention we spent about two hours at Crater Hill Wildlife Reserve this morning, before we hit the road. We saw the usual range of Koalas wallabys and bird life, one very striking small bird too.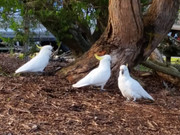 August 9 at 1:18pm · Hanging Rock
Stopping off at another small rural town in Victoria. After spending last night in a supposed four star campground at Blackwood, rated by wiki Camps, I'd give it 2.5 star, we left early then drove to Hanging Rock to walk to the summit. The weather, yesterday and today is still overcast and not really suitable for a picnic...
August 9 at 5:17pm · Echuca
Arrived safe and sound. We had planned at staying at Rochester but nobody at the park. I hesitated staying at Echuca as the forums mentioned its very expensive, pleasently suprised it cost less than sixty dollars for two nights and the park is easily 5 star. Freebie gift vouchers too... The pic is for you Julie Coward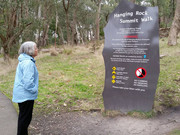 August 10 at 10:33am · Echuca
The sun has finally arrived after a week of rain overcast skies. Having a lazy cuppa waiting for the lunchtime cruise on the Murray River here at Echuca
August 10 at 5:33pm
A lazy day here in Echuca, eating, crusin and snoozing. A few isolated heat showers but otherwise mild and breezy. Away tomorrow towards Canberra.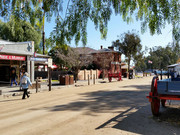 August 11 at 2:33pm - Wodonga
Halfway towards our destination of Gundagai, presently stopped at Wodonga for a coffee and bite to eat. Its probably our longest day travelling, 350 or so km so taking a few breaks along the way
August 11 at 6:50pm · Gundagai
Finally made it after a long day on the road at mostly 90kph. We stopped off at Holbrook to see the Otway Submarine. The info board nearby made no mention of the less than illustrious reputation they had during the 70s and 80s, running into or being run over at sea. Settling down now and here for two nights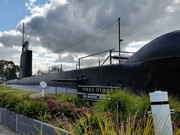 August 12 at 6:50pm · Gundagai
Steady rain and 5C making it a day to stick close to some warmth so, with the van heater on full heat we drove the scenic route, through countryside and steam strewn roads to Tumut.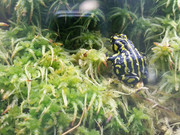 August 13 at 2:07pm · Canberra
In sunny but cool Canberra after a cloudy start to the day. This morning we looked over the twin timber bridges at Gundagai, both 800M long but slowly decaying to such an extent it's no longer safe to walk upon.
A few km up the road we stopped to view an Aussie icon, the dog on the tucker box as mentioned in a Banjo Patterson poem, 5 miles from Gundagai. After lunch we are away to the info Centre to see what's on offer. Staying two nights then away towards the coast.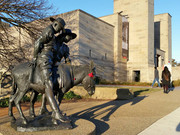 August 13 at 6:42pm -Canberra
Pictures from this afternoon visiting tbe Deep Space Station 30km out of town. Now we have returned to Canberra and waiting for the Last Post here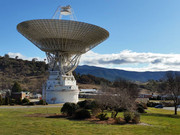 August 13 at 7:45pm · Canberra, Australia ·
Just returned from watching the Last Post ceremony at the Canberra War Memorial. They certainly do ceremony much better than us Kiwis, put us to shame I think...
August 14 at 2:08pm · Canberra, Australia ·
Calling in on a guy named Tony give him a piece of my mind about treating Kiwis as 2nd class citizens here in Aussie no dole entitlement etc...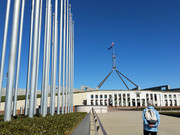 August 14 at 7:08pm ·
An evening wrapup of today's travels. First I must explain, in the wee early hours, some hoon spent a good 30min laying rubber about a Km away, waking most of the campground. So today, after walking the museums of Camberra we return home exhausted.
We awoke to the sights of suits, many suits walking around the campground and impeccably dressed women, kids too. Very unusual, the camper next door was similarly attired. Whilst he was kicking the tyres around his caravan, I struck up a conversation with him. They are here for a three day Witness convention, 5000 of them meeting in a nearby centre. That explains why this is the busiest campground we have been to.
Anyway, we parked up at the iSite and joined the Explorer tour, stopping at the War Memorial first. Very impressive building and it would be easy to stay a whole day there. Just as easy to see why it's rated Camberra's #1 actraction.
Following that we visited the new Aussie Parliament then the National Museum - which is not as good as Te Papa, in my opinion. Colourful yes, but dimly lit and not that we'll signposted. The bus drove around the Embassy circuit, only the Kiwi and Swedish had open door policy whilst everyone else was fully fenced and guarded. The driver commentary was very informative and we'll worth the cost.
Tomorrow there is a farmers market nearby, then we are headed east towards the coast. No end destination in mind...
August 15 at 12:23pm · Yass Hume Hwy
A bit of a rough start to this morning,my having a splitting headache then sick after breakfast. Warming up now and feeling better by having a coffee at McCafe
August 15 at 6:02pm · Cowra
A very cold but not freezing start to the day and my poor health and headache this morning in Camberra, didn't improve until we reached McD at Yass. Idly waiting for our coffee. I turned on the Trip Advisor app to see what the local actraction were. Coomes Cottage 6km away had great reviews but when we arrived the place was closing down. The departing manager said Chris might let us look about the place for a few minutes so we parked up. Helen walked around the cottages whilst I waited for Chris to walk his Clydesdale horse into the picture.
Well that was the start of a 30min yak session about the horse, Coomes Cottage and a recently achieved world record.
As we departed the sun finally broke through the clouds and we headed north towards Cowra stopping for a while at the picturesque town of Boowora. Then on to Cowra to look at the WW2 POW Camp, famous for the only breakout on Australian soil where over 250 Japanese lost their lives.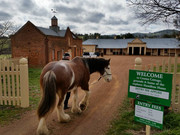 August 15 at 8:03pm · Cowra, Australia ·
Tasting kranski ( spiced sausages ) cooked on an open fire by the genial campground host, here at Cowra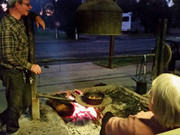 August 16 at 4:57pm — at Peak Hill caravan Park.
The pic should leave you in no doubt that we are in fossil country and have been mid morning when we stopped in Canowindra to visit Age of the Fishes museum. Whilst Helen walked the old town centre, I spent an hour looking through their fossil history displays. Very well done if that's your interest.
Whilst having a coffee in a nearby café, in walked a young girl with a stack of Pony Pal books, the same titles that I used to read to the kids all those years ago.
This morning we discussed future destinations deciding to forgo Bathurst and strike north aiming eventually for Narrabri and chancing a visit of the Pilliga Princes though we are not travelling by night so that's unlikely. There are artisan baths in Narrabri, the southern end of the Queensland aquifer, but if this afternoon temperatures keep up, warming ourselves in thermal pools won't be required. All is well even better now the temperatures have lifted ??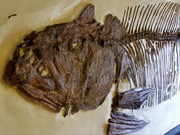 August 17 at 12:41pm · — at Parkes Radio Telescope.
At last, the first mild morning of our holiday, 10C at 8am. We are looking over the townships of Parkes and Forbes today, stopping first here
August 17 at 7:23pm · at Peak Hill caravan Park.
Today's highlight was definitly The Dish. After taking the previously posted pics, we went into the café for a coffee. Coffee wasn't on the go as their machine had broken down, as we waited for a pot of tea, I quizzed the manager who was attempting to fix and clean the machine. To cut a long story short, despite his doubt, I proved conclusively the element had failed and advised him how to replace it. We had or tea then as we left, said manager presented me with jar of home made fig jam, don't tell IRD.
We drove down the road to Parkes but the Elvis themed town didn't appeal so we moved down to Forbes which was only slightly better.
After returning home I walked up to the now closed, opencast gold mine to read the display boards then returned to the MH and waited for the caravan parks signature event, hot scones with cream and jam delivered personally by the camp owner. They didn't last long, not even enough time to take a pic!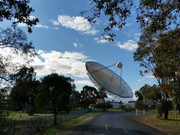 August 18 at 9:51am ·
Lest you think it's all cafe's and clubs, this alfresco pic shows our typical morning scene in club lounge, following breakfast. Soon it's time to do the dishes, tidy up, lock all the drawers, haul in the power cable and start another day of mystery and excitement...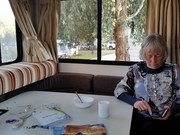 August 18 at 6:49pm — in Trangie, New South Wales.
A long day today. We awoke early enough, 6am for some and hit the road just after 8am. Heading to Dubbo we called in to the Jayco centre to arrange repair of the non working waterpump. Come back at 2pm we were told so we headed off to the iSite for inspiration. We did an hours walk around the McQuarie River then as we stopped for a noon coffee, I checked Trip Advisor who highly recommended the Cultural Centre, just 800M away. But it was closed so we walked back into town. Dawdling around until 2pm then returned to the Jayco centre to have the fault repaired. Some $1000 later - at Apollo's cost we took off and headed west on along the great western plains ( it's so so flat out here ) we arrived at the 5 star campgrounds and cheap to $27 / night. The terrain out here is pancake flat and the recent rainfall has left townsfolk in great spirits, everything being lush and green. We passed huge fields of yellow rape seed knee high as well as fields of grain shooting up thick and lush. If they get just a few more rainfalls before Xmas things will be just fine.
We will be having another great sunset tonight but that's still 2hrs away so I'll leave you with these not so great pics of today from Dubbo.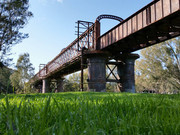 August 18 at 8:14pm · in Trangie, New South Wales.
Too busy talking around the campfire tonight to capture a nice sunset pic so these will have to do...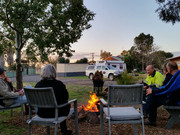 August 19 at 10:19am ·
Good morning from a sunny but still cool Trangie, located in the heart of cotton growing country so the camp manager informed us last night. Chinese interests had bought large tracts of land in recent years turning them into huge cotton farms. Cotton needs lots of water in its growing cycle, much of that is taken from rainfall where huge reseviors and associated canals have been constructed. Its free to harvest any water that lands on your property which explains all the earthworks we say yesterday coming into town.
The locals and businesses love the cotton growers as they expands the labour season here. Once cotton harvesting finishes it's onto the grain season then fruit harvest, a win for everyone.
Well that's a quick thumbnail on life in the country town of Trangie and it's population of 800, when everybody's home.
Today we head a little further north to reach the crest of our travels before heading east then south to end up in Sydney, Friday week.
The attached pic is of the gallaha roosting tree next to our camp spot. The camp owner was particular where we parked last evening, not wanting any unwanted souvenirs to land on our MH. I must add it was a pleasant change listening to the morning chorus of mellow twittering gallaha's then the racqous call of the kingfisher or the loud, though melodious call of the magpie at wakeup time.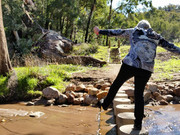 August 19 at 7:03pm · Coonabarabran, Australia
This mornings frost didn't last long, by 9am departure time it was already 10C and rose enough by noon to fold away the jerseys that had been essential wear since we arrived.
We took an off the highway route towards the Warrumbungles which gave us the change to see more wildlife, something that's escaped us so far. We saw a few roos and emu in the cultivated paddocks as well as a fox, not clever enough though as he was deceased at the roadside. Stopped at Gilgandra for an hour or so then headed north to the National Park, stopping to admire the views here and there. After paying our $7 entry fee we viewed the info Centre then did a nice enough walk through a small gorge, saw some more roos, at close range this time. A few km further up the road we turned off to climb 100M elevation to reach Siding Spring Astronomical Observatory. Nice inside but not as good as Parkes Dish.
Not sure where we will go tomorrow, south for sure, we will decide that while we are parked up here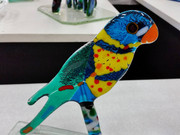 August 20 at 9:11am · Coonabarabran, Australia
Up and about before 7am and the sun is just peeking through the trees on another cool start to the day. Helen is away to the showers, I'm about to have breakfast.
This caravan Park is full. There is a three day farm expo on in a town 80km away but such is the popularity of this event, getting somewhere to stay is difficult closeby.
There would be over 50, caravans mostly, around us. Lots more caravans heading south, only a few heading north, why we asked a fellow traveller. Its all the lawn bowl set heading home he claimed, the season starts in a few weeks, great for us, it frees up camps further north.
Of the 50 or more parked up, we are the only motorhome on site. Most of the caravans are pop top units and a good selection of Jayco Penguin style to.
We are again parked close to a motorway, just 100M or so. The constant stream of B trains is but a faint hum in the background. I might add that B trains and there prime movers is a truck spotters delight, there are hundreds and hundreds of them on the highways.
And north we go today, despite what I wrote earlier, good reviews of the Pilliga area on Trip Advisor and a recounting of our remaining days has forced the change of plans.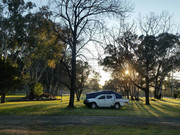 August 20 at 6:10pm · Narrabri
We arrived in town at midday after travelling through the extensive Pilliga forests, hoping to view the Sandstone Caves then a little further, the Watchtower. We missed both turnoffs due to typically poor Aussie signposting, something NZ does so much better (along with rugby and netball).
We are staying two nights, tomorrow we head out of town to visit, oooh another radio telescope! then on to some artsian springs.
As we wait for the free camp BBQ to start we sit outside in balmy weather with just enough breeze to keep the midges at bay...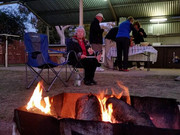 August 21 at 6:51pm · Narrabri, Australia
No campfire BBQ tonight, it matters not as we had another full day with a 11C morning start under a clear blue sky. After breakfast we headed to the CSIRO Australia Telescope 20km out of town, where I spent an hour or so looking through the visitor display building. Helen remained in the MH but missed the synchronized rotating of the dishes, nose to busy in a book I guess.
Wee Waa was the next destination, but only to walk through this very neat little town, full of character buildings and leafy side walks.
We again missed the turnoff to the Artisian Baths just 2km out of Burren Junction. So diverted to the mass of motorhome and caravans just off the side of the road, we didn't see the sign opposite.
In this ramshackle almost ghost town we had more trouble with the MH, the end section of the exhaust had slipped off, trailing along the road. After finding two locals next to the boarded up gas station, I borroeed a spanner and rejoined the pipe, then for good measure added some #8 wire for additional support. That done we heads to the only place open, a rundown country pub, for lunch. A massive burger with "The Lot" was my reward for bush mechanic repairs.
We called into the Artisian Baths for a half hour soak in the turbid 42C waters, chatting to a few of the locals. Then back to Narribri for the afternoon.
Highlights whilst on the road today, sunflower plants growing wild on the roadside, a flock yellow crested cockatoos nibbling away on roadside grass seeds, cotton balls trapped in roadside weeds - for we are in deep cotton growing country and finally, endless flat plains full of 1000 hectare paddocks...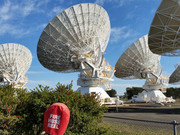 August 23 at 1:29pm · Coolah
Saturday 22nd - A very warm morning, 20C by the time we left heading to the neat and tidy town of Gunnedah that services the local coal mines. At the iSite we were given directions to Waterways Wildlife Park, a few km out of town.
Here we spent the better part of an hour looking on all that was on offer. The park is run by volunteers and started out as an animal rescue centre, expanding from to include an avarey. The pics below tell the story.
We then followed more rough back roads, all sealed but in such a state, straddling the crown was the only place to drive.
Eventually we arrived here at Coolah, but not before stopping at The Black Stump, one of many making that claim in Australia hut this one has more credulity than most by having a "Highway" named after it as well as official state brass plaque attached.
The caravan Park is clean and spacious and for a small off the highway country town reasonably well patronized this evening.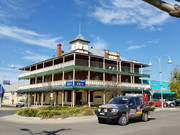 August 23 at 1:54pm · Leadville, NSW
Back in a coverage area, grey sky day with light rain falling but not as thundery as this morning, on the road heading south with lightning flashes and heavy rain ...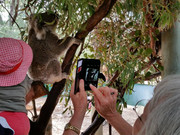 August 24 at 1:13pm · Rylstone, NSW
Sunday - A melodious start to the day from a very in tune bird repeating it's 10sec melody for at least 20min whilst slowly drifting away, makes a change from the repetitive kak of the kookaburra or chortle from the magpie.
After breakfast and packing up we stopped in town to walk the shops. Suprised to see a café open at this early hour, 8:30am, popular too with a queue 8 deep at the counter.
The sky was looking very dark ad we headed out of town, the leading edge of a front with lightning, thunder and very heavy rain. Still raining as we entered Mudge where we stayed a whole deciding what to do. Mudge is yet another pretty town, low rise standstone buildings of grand design everywhere, wide streets with plenty of parking. Too early for any sustenance so we headed into the countryside to historic Rylstone.
This is a town that's retained it's heritage buildings and not just one or two, whole streets of them and all in use. Sunday morning 10am and nearly all of them open, dentist too! On impulse I ushered Helen Wekking into a café and what a find, serving the best vanilla square on our travels. Too rich for one of course so as we often do split it between us. The rain had held off for a while so we walked the streets of the CBD, snapping pics here and there. Next stop an hour or so away in Kandos where we parked up for the night. This town a little more rundown than last but still very nice. A very busy Thai diner shooed us away until 2pm when we returned and dined on yum cha. The rain still hanging about so we parked up at the very tidy campground for the evening.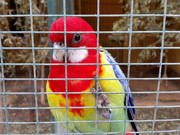 August 24 at 1:16pm · Pit Straight, Bathurst, NSW
1st in class, times a little slower than some due to rain on track...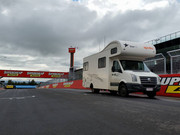 August 24 at 6:59pm · Katoomba Falls Caravan Park.
It's been a day of thunderstorms, rumbling away in the early hours, then smashing into the MH with 1cm hailstones this morning, and this evening rumbling around this township. In between the showers and thunder we called into the near derilect town of Sofala, next call was Bathurst and a trip around Mt Panorama - so much steeper than depicted on TV, then Bathurst town centre - more pretty red brick and yellow standstone buildings. The weather was still threatening so we drove to Katoomba - misty and calm with occasional thunder. Hope weather improved tomorrow.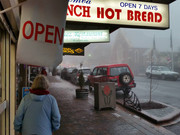 August 25 at 4:08pm · Katoomba Falls Caravan Park.
Marvelous day in the Blue Mountains. After the rain and mist of yesterday wasn't feeling very hopeful for today. Day dawned clear although we have had one shower of rain while out walking. Been on the world's steepest railway, the cableway and skyway. Walked all the way around to the Three Sisters.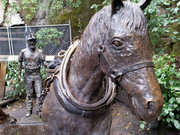 August 25 at 7:55pm · Katoomba Falls Caravan Park.
We awoke this morning to a cool still and most importantly dry day. Helen said there were showers last night but I didn't hear them. After breakfast I saw patches of blue sky forming so the day looked promising. Our Caravan Park is located very close to the heart of the BMs tourist area which opened at 9am, we were first through the doors. Here there are three cable driven transport modes, railway, cable car and gondola to various points in the park. We took them all in the 6hrs we spent within the park. A fair amount of walking therein too, 7km according to my phone app. The day was cool with an occasional shower which we saw coming, such is the commanding view within the park and sheltered accordingly.
Tomorrow we will explore some more of the park before heading into Sydney town for two nights.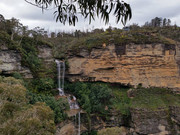 August 26 at 11:59am · Wentworth Falls Lookout.
Awaiting our coffee here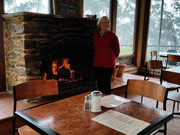 August 26 at 10:51pm · — at Lane Cove National Park.
After a cool and dismal start to the morning, wet misty drizzle, we broke camp then took a chance on maybe some clearance by the time we made it to Wentworth falls. Nothing doing but there was a café overlooking the wonder and it had a log fire going. Too good to pass by so we called in to warm up and revive.
Reluctantly we left the high terraces and decent into the Sydney basin area. Within 10km the weather had changed with the sun breaking through and temperature doubling, enough to turn the heating right back. We cruised the freeway then toll way on our way here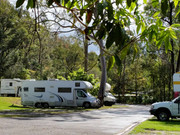 August 27 at 9:21pm — at Darling Harbour, Sydney.
Yesterday afternoon we went for a short walk and purchased two Opal tickets from a convenience store. So this morning like newbies we entered the tube station at North Ryde, took three escalators underground, and stepoed aboard the unit into Sydney CBD. Impressive double decker trains, big led screens promoting Tasmania tourism, a warm blast of air preceeding arriving trains, good lighting and clean, as in no graphiti - which was everywhere in Melbourne. Once on the tube we noticed nearly everyone, was either consulting their handheld devices or listening to music therein., nobody was involved in conversation...
Exiting in the City , the trip cost $2.90 for approx 40min travel - there were lots of stops. We hoofed it down to Circular Quay and watched the ferries, took some leaflets from the iSite, walked around the Opera House, had a coffee then ambled our way to Kings Wharf for a 4hr lunchtime cruise. As soon as we cast off the buffet table was available, twenty or so passengers lined up for a very nice meal, seafood, salads, meat dishes, it was all there. A commentary throughout the length of the cruise on shoreline suburbs and features passed the time quite nicely. However I think this lunch cruise was not a money maker.
We made our way back to the tube station and in no time we were back at North Ryde and then home. Interestingly the return trip cost $3.70, maybe there's a congestion charge applied?
Tonight we start packing up our bags, and prepping the MH for its return tomorrow morning. I've downloaded Uber with intentions of trying that to hail a taxi to our hotel, not that I'll ever need the app in little ole Cromwell...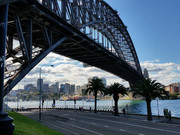 August 28 at 8:16pm · Rydges Hotel, Melbourne international Airport.
Arrived in our hotel for the last might in Australia.
This morning we cleaned out the MH, packed our bags, dumped the rubbish, refilled the water tank, then hit the motorway at Peak time traffic. We made it to South Sydney without drama, returned the MH and got the bond refunded, then used Uber to get a taxi to Rebecca flat in central Sydney.
After a time we visited a boutique shopping centre, had lunch but a billing mistake on their part we walked away scot free, they being insistent twice that our meal had been paid for. I protested meekly twice and they waved me off, fine by me. Next was Circular Quay and more taking in the harbour sights but feeling walking weary we took an open deck bus tour of the CBD for the next 90min, making mental notes of what to visit next time around. Now we are settling in at the Rydges hotel before tomorrow's 10am flight.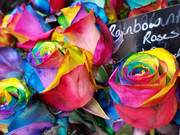 John & Helen
Hilux 3lt diesel towing "Lilys Pad" (X-treme 273, 5th Wheeler). CAP - 8683 at holidayhouses 48371.

Adventure is not in the guide book and beauty is not on the map, seek and ye shall find.