I thought it would be good & fun to start a thread of Ideas that people have come up with to get around problems, That have turned out to be more than just a fix.
I will start it off with 1 of mine.
I had a problem, It was that with our new camper, We didn't like the standard roof vents.
We put Maxxair vents into our last camper & really liked them, So that was always the type of vents we were going to go to.
The problem was that the old vents in the roof were for a 15 inch hole & the new vents were for a 14 inch hole, The outer edge of the inside cover didn't even cover the main hole, Let alone the screw holes from the old vent.
Easy enough to make up plates so I could mount the vents & cover the holes, but I didn't want people looking at it & thinking that it was a repair.
After a little bit of thinking I decided that I would make up a 3mm Alloy plate the size I needed to cover the holes in the roof & polished it up, Then I made up some Another spacer out of 10mm thick Poly Carbonate & polished that up.
Then I fitted 12 low power Led lights up into the hole & fitted 2 switches , 1 switch does 4 led's & the other does 8 Led's.
The light setup works well, With just 4 led's going It works great as a night light, With 8 or the full 12 led's going it is nice for sitting at the table & having a Nice drink & not having to have the bright Main camper van lighting going.
They worked out good but it was a bit of work by the time I did both vents.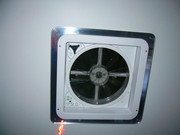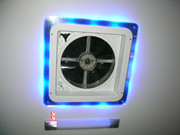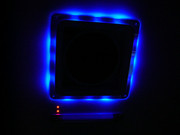 Murray
Murray and Niki.
'Riders Retreat'
2007 Mitsi Fuso Canter 3.9 Turbo Diesel , 630w Solar, 500 A/h Lithium batteries
Maxxair Vents, 130L 12v Fridge. 240v Inverters 2500w,190L water.
We also have a second 1 of these campers with a tow bar that we rent out.