Theres always something needs doing, tell us what you did today to maybe spur on others to do something similar.
Me, today I fitted an isolating switch to the gas heater thermostat controller. I replace the faulty thermostat a few months ago.
I tested all the gas appliances (fridge, water heater, cooktop, gas heater) last weekend. This morning I heard the gas heater working, only to find Id left the thermostat on 18C and forgot to switch it to the Frost setting.
Uncomfortable with the fact it might switch on even at that setting (it happened on a previous MH), I interrupted the two wire cable and added in a isolating switch.
Now, OFF will definitely be off, and no half empty gas bottle surprises at the campsite.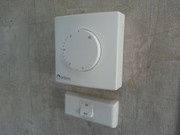 John & Helen
Hilux 3lt diesel towing "Lilys Pad" (X-treme 273, 5th Wheeler). CAP - 8683 at holidayhouses 48371.

Adventure is not in the guide book and beauty is not on the map, seek and ye shall find.