Hi, Just bought a new base station for our Dometic Vac toilet
,on to of unit has this long catch ??,not on the original,
Have contacted the supplier and he does not know .
Anyone out there know or should I just take it off (only 2 screws )
Regards Dave.
New one.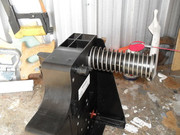 .Old one.
Why bother about trying to rake water uphill ?