I have always been annoyed that the pump is noisy and has air in the system after being on the road. This can take two or three minutes to quieten down and expel the air from the system after setting up camp again. In an attempt to provide a solution to this problem, I fitted a small in line non return valve between the tank ant the pump on the suction line. This appeared to provide a great solution until we hooked up to a pressure feed while parked up at home. The pressure feed relies on the pump valves to prevent water passing through the pump and into the fresh tank while in this mode. As it turns out, a small quantity of water does seep past the pump under these circumstances but with my nifty non return valve in the line pressure slowly builds up in the pump housing resulting in a leak / flood overnight - "Bugger". I have now removed the offending non return valve and also have completed modification No 2 in this regard. I have re mounted the pump under the floor so that it will be in a "flood prime" location, minimise noise in the van and if it does leak the worst case scenario will be some watered grass.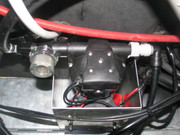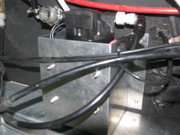 Cheers Chris
Site Administrator
[email protected]
2019 Elddis Supreme 860. 800 w solar 300 AH Lithium
2015 Jeep Grand Cherokee Diesel 8 Speed. Winnebago ILUKA on order.