Garmin's top model GPS really is the best on the market, but it does have limitations and in some ways it takes a step back, in that my old 2006 Garmin StreetPilot offers many features that are no longer available with this new model. For me, the most galling deletion is that it is now incapable of showing multiple Custom icons on the map. The following photo of my old GPS illustrates what I mean. You can see exactly what is available within motoring distance of your current position. This makes route planning or finding the whereabouts of what is available really easy.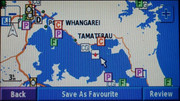 By way of contrast, here is a dezl 760 screenshot of the same area at the same 3km zoom level. While multiple Custom POI's are represented, only a generic "blue blob" icon can be shown. Tapping on any individual blob will make its real icon appear, along with its name, and any further information is revealed when the Name button is clicked, but no overview of the general situation is possible.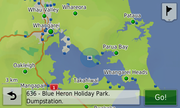 Garmin have come under a lot of criticism for this loss of basic functionality but state that "this is a GPS, not a chart-plotter". They are putting a lot of effort into promoting the use of their BaseCamp product for trip planning and have made interfacing this with all their GPS models increasingly effective. BaseCamp is free for anyone to download and use and provides excellent trip planning functionality on a Laptop or PC. Here is a screenshot, again at the same 3km zoom level. You can see how well all the POI data is presented. Again, clicking on any Custom icon will reveal its actual identity and key information, while a double click will reveal any further info that is available. Dumpstations, Low Cost Parking, Campgrounds, Free Sites, Clubs, Laundries, PoPs, LPG filling stations... all are clearly identified.
http://s27.postimg.cc/nmy9fif4z/BC_Map004.jpg
Another dezl 760 quirk is the AV/in socket provided for connecting a backup camera. Any GPS with one of these can normally be fitted with any generic "reversing" camera. There are literally scores of these cameras available, and all of them, unsurprisingly, provide the reversed "mirror image" normally required of backing cameras. Now, plug any one of these into an old 7" Garmin and you get a "mirror image" perfect for backing. Plug the same camera into their new 7" GPS and you get...... a
normal
image, totally unsuitable for backing. Their new 7" models appear to incorporate reversing circuitry that cannot be turned off. Normally, the camera provides a reversed "mirror" image, but the new Garmin is reversing that again to render the image unuseable for backing. Why would Garmin make such a needless, counterproductive change? Could it have something to do with the fact that they have just introduced a very expensive wireless backup camera of their own and want to lock out all competing products?
Owners of a 760LMT GPS have, then, 3 options.
(1) Get the official Garmin BC-20 wireless backup camera. (CMOS camera and the most expensive option by far.)
(2) Use a normally front facing (non-mirror) wired camera as a backup camera.
(These tend to be much lower quality than dedicated backup cameras.)
(3) Track down a wired backup camera that is mirror/non mirror switchable.
(This would be my preference. CCD camera. Infrared night lighting.)
I find it disappointing that new Garmin models no longer provide what to me is a basic GPS function. Maybe they will remedy this in future software updates. At least they
do
enable users to enter and use Custom POI's though - you can't even do
that
on the latest Tomtom gear! How can technology companies get so out of touch with their users?
In summary, this is an excellent GPS with many new features but unfortunately it drops some valued old features. This deficit can be remedied to a significant extent by using it in conjunction with PC based Garmin BaseCamp.
Neville.