Howdy, this is a new project we've started.
Got the old caravan for really great price knowing it needed work after sitting at a beachside campground for 25yrs with a permanent annexe attached.
Step 1 :
Detach from awning and get towie to drop it at home - not worth the risk. The tyres did hold air and the wheels spun ok with a bit of brake rub noise from the rusty disc rotor. Tow truck driver was awesome - he had done this many times and knew to make sure all windows and vets were closed and even got the jockey wheel winding down to roll it out to a clearing where he pulled it onto truck.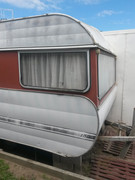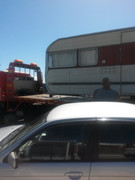 Quick waterblast with a 3000psi petrol including chassis revealed who bad the rusting was. Only really one corner where the mains connected plumbing had been leaking for who knows how long. Looked at removing some of the floor to cut and weld but decided to remove chassis get repaired.