Many people think what is required here is a Trickle charger, but that is not the best option. Trickle chargers generally supply a fixed
current
- regardless of how much or how little the batteries may need. A far better system is to use a Float charger. These maintain batteries at their recommended Float
voltage
, varying the current as necessary. Such a charger can be run from Mains power or your House batteries, but a really good option is to utilise your existing solar panels. It doesn't take a lot of power to maintain batteries at their float voltage so the Float charger can use the same solar panels as the existing House battery solar controller.
A suitable "boost" power supply module like this one only costs about $6. It will take your solar panel output and step it up to whatever Float voltage is recommended for your specific Starter batteries (probably around 27.6 volts). The power supply is set to the desired Float voltage with the on-board potentiometer you can see on the right, using a digital multimeter.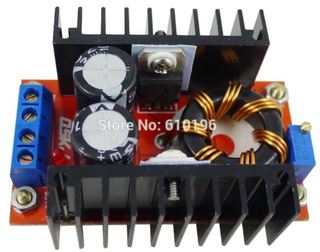 https://www.aliexpress.com/item/High-Qu ... 9a07fb5492
A 10 amp diode is fitted to protect the charger from incorrect (reversed) solar panel connection, and another 10 amp diode is used to protect the charger when the battery voltage rises above the set Float voltage (eg whenever the engine is running). No fuse is necessary on the input side because the solar panels are a current-limited power source, but fitting a 10 amp fuse on the output side would be a good idea.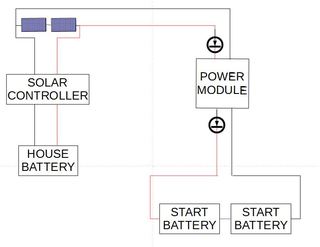 You could fit a switch to control this Float charger if you wanted to, but it would be quite safe left on all the time. With it set to the correct voltage the battery
cannot
be overcharged. An ammeter could be fitted to show the charge current and/or perhaps a voltmeter to show the working voltage and make setup even easier.
The Float voltage can be varied, of course. It could be set lower than 27.6 volts to lower the charge rate and thus use less solar power or it could be set higher than 27.6 volts to charge the Starter batteries faster, at a higher current - should you ever want/need to do this.
Neville.