This pictorial wiring diagram shows how to connect a solar panel, solar controller and House battery to provide a basic RV solar power installation.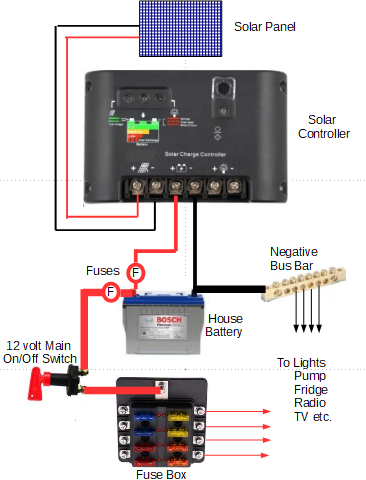 Red cables are Positive, Black cables are Negative. Note that cable thickness varies according to the current it has to carry and the length of the cable run.
Appropriate Cable gauges can be calculated here :-
https://www.omnicalculator.com/physics/voltage-drop
Adequate cable sizing will keep transmission losses low. 1% is excellent, 2% OK, 3% not so good.
This spreadsheet will give some idea of panel, controller and battery costs.
The Busbar, switch, fuses and fusebox will add another $40.
Cable costs are not included.
Neville.
Edited to retrieve image as a test - scubadoo
Last edited by
scubadoo
on Thu Apr 19, 2018 10:05 pm, edited 1 time in total.
Reason:
Edited to retrieve image